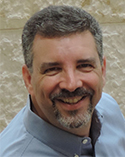 Cantor/Chaplain Michael A. Shochet is the Coordinator of the Fairfax County Police Department Chaplain's Unit and is a Chaplain with the CIA Protective Programs Group. Shochet helped found and is the Chair of the Fairfax County Community Chaplain Corps, operated through the Fairfax County Office of Emergency Management. He is a former Chaplain with the FBI-Washington Field Office and a former police officer with Baltimore City Police.
Cantor Shochet is one of the full time clergy and the Senior Cantor of Temple Rodef Shalom of Falls Church, Virginia, the largest Synagogue in Virginia, where he has served since 1998. He came to Virginia after serving Temple Sinai of New Orleans since 1994, where he also served as a Police Chaplain with the New Orleans Police Department. Cantor Shochet received his Ordination in May, 1994 from the Reform Jewish Movement's seminary, Hebrew Union College-Jewish Institute of Religion.
Prior to entering seminary, Cantor Shochet was a sworn Police Officer with the Baltimore City Police Department from 1986-1988. Prior to that, he was a Television News Reporter with WMAR-TV, then NBC, in Baltimore from 1983-1986, and also worked as an on-air reporter/producer with the US Information Agency.
Cantor Shochet went through the Fairfax County Police Auxiliary Police Academy and was a sworn Auxiliary Police Officer from 2006-2009. Cantor Shochet is a Senior certified member of the International Conference of Police Chaplains, and a member of the International Critical Incident Stress Foundation. He is the immediate past Chair of the Metropolitan Washington Council of Government's Public Safety Chaplain Committee, organized through the Police and Fire Chiefs of the National Capital Region.
Cantor Shochet teaches Spiritual Survival and Death Notification in the Fairfax County Criminal Justice Academy. Cantor Shochet appears in the book, Jews In Blue, published by Cambria Press. Shochet was recognized for his service to the community from Fairfax County by being named Lord Fairfax, 2010, and from Volunteer Fairfax, where he was awarded the 2008 Service of The Year Award. In 2007 he was awarded a "Hero Award" from the Jewish Federation of Greater Washington, and the 2008 Lehrman-Pikser Award for community service by the Washington Jewish Social Services Agency (JSSA) as well as Kent Gardens Elementary School for his service at the Pentagon on September 11, 2001.