FB-ISAO Establishes a School Safety Channel
By Eli Russ, Professional Member, FB-ISAO
The Faith-Based Information Sharing and Analysis Organization (FB-ISAO) is pleased to announce a new channel on FB-ISAO Slack dedicated to safety and security information for Pre-K-12 schools, institutes of higher education, and other educational institutions and childcare programs ("schools"). FB-ISAO members now have a place to review and exchange resources, tools, emerging and best practices, sector and news updates, and communicate with individuals from houses of worship and faith-based organizations.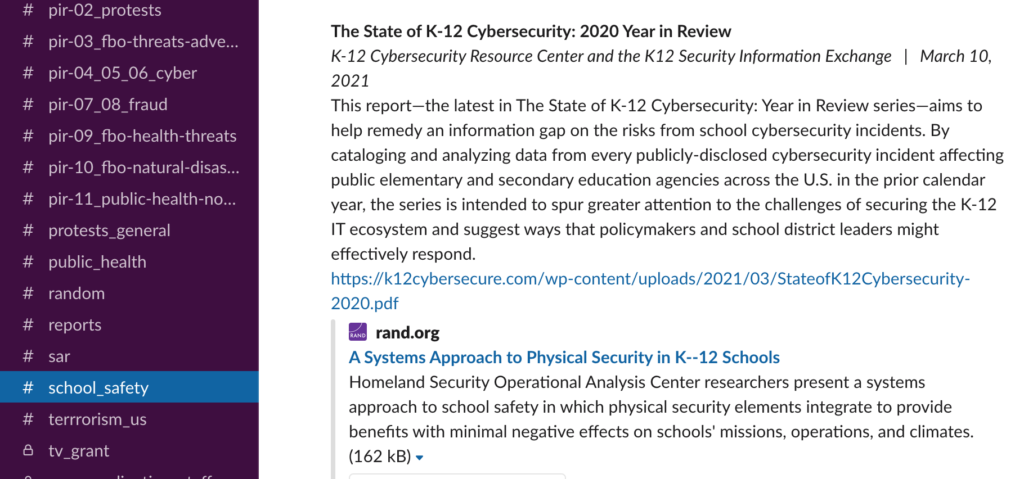 By sharing information on a range of topics, members can learn about the challenges and solutions to improving school safety. For example, members have shared information regarding upcoming webinars from the Department of Homeland Security (DHS) on school safety and the United States Secret Service (USSS) on averting targeted school violence along with other helpful resources. The #school_safety channel is accessible to FB-ISAO members via Slack. We encourage participation at any level in the discussion and welcome feedback and suggestions regarding desired future products and initiatives related to school safety.
This is an opportune time to review and develop your school's emergency plans, including a plan's public health annex, as many schools enter a summer recess. The novel coronavirus (COVID-19) has challenged and will continue to challenge schools to adapt to the latest public health guidance. Particularly, and as in-person instruction increasingly resumes full-time, schools are expected to support vaccination programs for students, to establish new methods to safely instruct students, and to maintain business operations. The #school_safety channel will serve as an informative and timely resource for members to keep up with COVID-19 prevention guidance for schools.
Schools also remain at risk from physical security and cybersecurity threats. In May 2021, DHS issued a public awareness bulletin assessing that "the threat of targeted violence in schools will remain elevated as more children return to school full-time." The DHS bulletin recommends that schools and communities continue to prioritize targeted violence prevention and utilize multidisciplinary threat assessment and management teams and programs. The USSS validated in a March 2021 report devoted to averting targeted school violence that "students display a variety of observable concerning behaviors as they escalate toward violence." A key element of this local prevention framework is education for school community members to become attuned to the potential risk factors and indicators as engaged bystanders and to seek help for an individual that may be radicalizing to violence. Collaboration is encouraged to identify warning signs and intervene across local, state, and federal entities, including with schools and the communities they serve. The #school_safety channel provides an excellent forum for this collaboration to occur.
Schools will prepare to respond to active threats by continuing to balance the scope of active shooter/assailant drills and exercises during the COVID-19 pandemic. A June 2021 Federal Bureau of Investigation report that reviewed the past two decades of active shooter incidents and their locations found that Pre-K-12 schools had the third-highest number of incidents (44), institutes of higher education had the sixth-highest number of incidents (18), and that houses of worship tied for the seventh-highest number of incidents (15).
A variety of incidents have impacted schools in the past month. This short list outlines the wide variety of incident types, adversaries, and methods that schools encountered, including shootings, protests, arson, vandalism, and cyberattacks impacting school facilities and systems, students, parents, and community members.
Schools may also be impacted by natural hazards, such as hurricanes, wildfires, and droughts, and are encouraged to review disaster plans and supplies. The Atlantic hurricane season, forecasted to be higher-than-average, has begun and continues through November 30. Western states, particularly California, are experiencing severe and extreme drought conditions, and are anticipating a wildfire season that is worse than last year's record-breaking season.
Members with educational-related affiliations are encouraged to join the #school_safety channel on the FB-ISAO Slack workspace, and to help share this new resource with interested members of their school and faith-based communities. Members are also encouraged to engage with FB-ISAO and one another to further define the needs of this virtual community in terms of reports, products, and resources that will enable you to continue to support your schools.