June's FB-ISAO Monthly Threat Overview: Vandalism & Theft
by Andy Jabbour, Managing Director, FB-ISAO
---
This post was originally informed by a TLP GREEN FB-ISAO Monthly Threat Overview, distributed on 27 June 2019.
---
Every month, FB-ISAO provides a TLP GREEN report, the FB-ISAO Monthly Threat Overview. The report is developed over a specific reporting period by a team of analysts. The report addresses all-hazards – to include physical, cyber, natural hazards, and health threats. The complete physical security section includes incidents involving hostile events, vandalism, theft, harassment, arrests and other notable events. In our May report, I was struck by the remarkable number of incidents that were included, specifically in the area of hostile events. 
This month, it was a different portion of the report that notably stood out for me – the significant incidents of vandalism and theft, which are not necessarily unique this period, though some are specific to the month. One of the areas that we observed in June was vandalism aimed at houses of worship recognizing Pride Month (June).
"All of the faithful they should have some assurance that when they go into churches, that these places are safe" – Monsignor Edward Lohse, Vicar General with the Erie Catholic Diocese, via Erie News Now
Chicago, Illinois: "LGBTQ Pride flags vandalized in possible hate crime at Wicker Park church." On 25 June, The Chicago Tribune wrote, "A week before thousands of Chicagoans fill North Side streets to share love, acceptance and pride for the LGBTQ community, a Wicker Park church is moving ahead after being targeted with messages of hate. Early Sunday morning, a pride flag and transgender flag hung outside Wicker Park Lutheran Church in the 1500 block of North Hoyne Avenue were vandalized. A Chicago police spokesperson confirmed police are investigating the incident as a possible hate crime."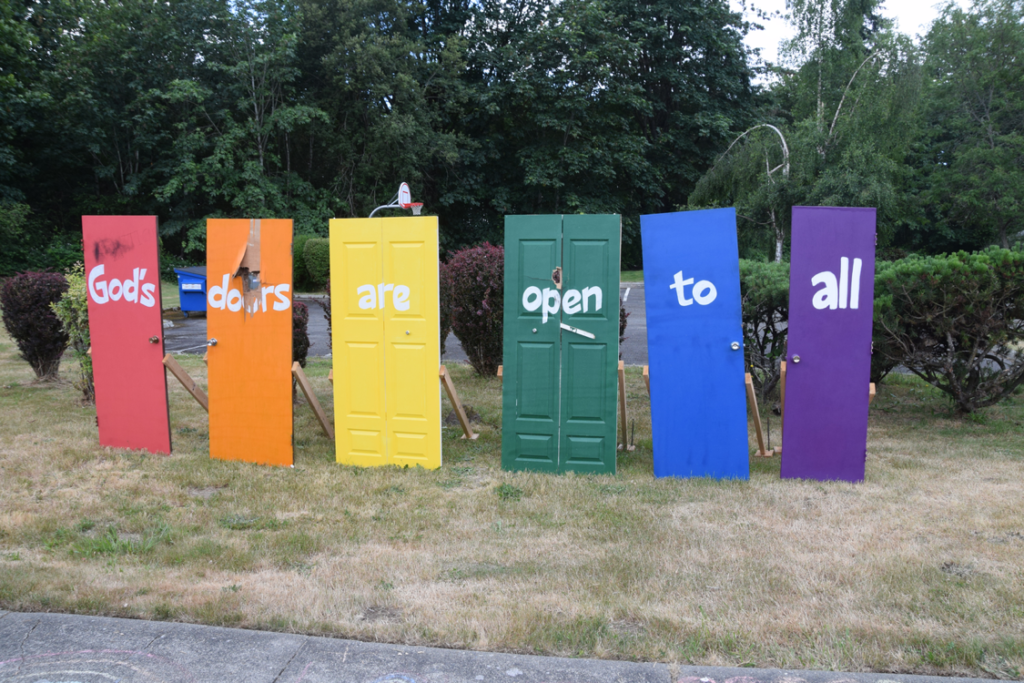 Renton, Washington: "FBI Offers Reward of Up to $5,000 for Information on Renton, Washington Church Display Defacement." On 28 June, the FBI announced, "On June 19, 2019, at approximately 2:30 a.m., an unknown individual (or individuals) used explosive devices to deface an outdoor display at the United Church of Renton in Renton, Washington. The display featured multi-colored doors, each painted with a different word from the phrase 'God's doors are open to all.' It is believed that the subject(s) also wrote 'Leviticus 20:13' on one of the doors. This display was previously vandalized during the evening hours of June 13, 2019, when parts of the display were knocked down. The display was also defaced with explosive devices at approximately 10:00 p.m. on June 16, 2019."
Beyond Pride Month acts of vandalism, theft continues to target Houses of Worship. From South Carolina to Virginia, and across other parts of the country, theft continues to challenge our community.
Loudoun County, Virginia: "Group tries to rob Virginia Buddhist temple; may havestolen from others." On 26 June, WTOP reported, "Four people tried to rob a Buddhist temple in Sterling, Virginia, on Tuesday, and that might not have been the only temple they hit… One of the men tried to distract the abbot by asking about Buddhism and about a statue in the temple, while the other man sneaked off and went around to the office building, and the two women stole several keys from the abbot… Loudoun County Sheriff Mike Chapman said his department was working to confirm reports that the same group had robbed Buddhist temples in Maryland and North Carolina."
Bethune, South Carolina: "'We estimate that we have over $38,000 worth of losses.' Bus among other items stolen from Bethune church." On 27 June, WLTX19, CBS, wrote, "Sometime Tuesday evening a church in the town of Bethune was broken into and thousands of dollars of valuables were stolen including their church bus. The pastor of the Bethune Baptist church Scott Bernshausen said, 'I came out and found the bus was stolen… We entered the building and realized that the burglars had broke in and stolen multiple TVs and electronic equipment throughout the church." Church member Robert Horton had just been at the church around 9 p.m. Tuesday night, 'the neighbor said maybe this happened between 9 and 10. So you never know when somethings going on or when someone could be watching what you're doing.'"
Last week, this post's author had the opportunity to visit with a church leadership team to discuss hostile events preparedness. With Board of Trustees members having watched an FB-ISAO presentation on Hostile Events (see this month's FB-ISAO newsletter for info on the next session), recently attending local law enforcement training, and after talking with police and fire personnel, the church wanted to discuss ways to approach security and to minimize risks. Among the ideas discussed was the importance of basic facility hardening. Not every facility can have robust security measures, but it is important to have something – whether human patrols, security cameras, public address systems, mass notifications capabilities, the cloud-based Geoaware®️ platform being offered **at no cost** to FB-ISAO Pro Members by our friends at Vizsafe, or other measures. Hardening and a complete preparedness program don't happen overnight, but can be approached in manageable steps, respecting time, resources and an assessment of risks (read a great article on preparedness from Homeland Security Today, "Hard Conversations About Soft Targets: DHS Workshop Aims to Save Lives in Mass Shootings" [28 Jun])
"I recognize that investments don't happen overnight… Are we building security, redundancy and resiliency into our budgets, or are we just being reactive to everything? …we will not get any better during a crisis — we will fall back to our training." Assistant Director Brian Harrell, Assistant Director for Infrastructure Security, DHS Cybersecurity and Infrastructure Security Agency (CISA), in HS Today
In the case of the South Carolina church noted above, the church stated that, "We do have a security system and currently its with the burglars. We had just purchased a security system and we just formed a security team but before we could get the security system in, it actually got stolen by the burglars." In Virginia, the temple has security cameras installed and operation and the Sherriff's Office is reviewing and sharing footage with authorities in the other areas, according to WTOP. Two other recent incidents also demonstrate how having cameras, which can also help deter some crimes and attacks, at least also help inform post-incident investigations:
Erie, Pennsylvania: "Erie Church's Security Measures Help Police Track Down Attacker." Erie News Now reportedon 01 July, "The victim fought off her attacker, and he left, but not before he was caught on the church's surveillance cameras. Erie police released a picture of the suspect, along with his physical description on social media. By nightfall, Erie police identified the man as Josue Mendez, 25, and arrested him, 'The presence of the surveillance cameras at St. Joseph's was certainly a help in this case,' said Msgr. Lohse." And in another Pennsylvania incident, "Police investigating after break-in at Northampton County church" (WFMZ, 01 July).
And in addition to cameras, the importance of threat reporting and information sharing cannot be understated. Beyond vandalism and crime, our community must always be ready for the possibility of hostile attackers. From WHTC in Michigan, 01 July: "Police were called at about 10 a.m. with the report of a suspicious incident at a church, which Mulder did not identify. The dispatcher was told by the church's security official that a man made a comment about having a shotgun in his vehicle, and was headed to another church…"
Threats exist – right now, today. We need to take reasonable actions – today. Is your organization properly, reasonably, and responsibly addressing the risks you are facing? Are you actively working on preparedness and operations to protect and prepare your people and places? FB-ISAO will be providing our next offering of the Hostile Events Preparedness Series educational presentation on 25 July. It is free, and only costs you an hour and a half of your time. Contact our team for more information on that event. 
Join FB-ISAO! We welcome faith-based organizations, charities and critical partners to join FB-ISAO. Access our TLP AMBER and TLP GREEN reports, join our collaborative forums, working groups, participate in leadership opportunities and take the next step in enhancing your organization's preparedness, security and resilience!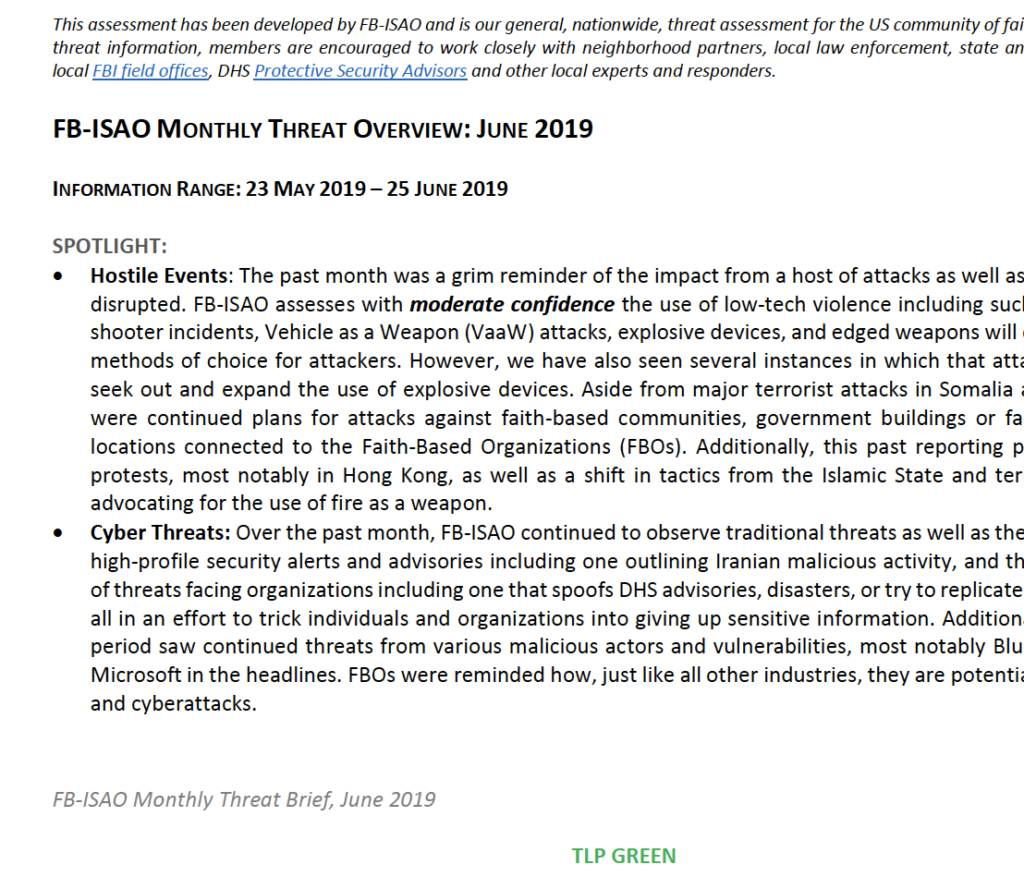 The complete FB-ISAO Monthly Threat Overview goes into additional incidents, other threat vectors and provides resources for members. As a TLP GREEN report is available to all Standard and Professional members, as well as our Government and Law Enforcement members (read more on membership here). 
Vandalism and Theft Incidents, for period from 23 May-25 June 2019.